The EEE job sector in Bangladesh is almost high. A EEE engineer can work in power division, communication sector, modern electronics companies, and many other industries.
There have many opportunities to become a passionated as an engineer for the electrical engineering job sector in Bangladesh
Power Division
An electrical engineer can share his/her experience or do work under the power division in Bangladesh, given below.
Bangladesh Power Development Board (BPDB)
North-West Power Generation Company Limited (NWPGCL)
Sustainable & Renewable Energy Development Authority (SREDA)
Ashuganj Power Station Co. Ltd (APSCL)
Bangladesh Energy & Power Research Council (BEPRC)
Electric Advisor & Chief Electric Inspector (EACEI)
Rural Electrification Board (REB)
Dhaka Power Distribution Company Limited (DPDC)
Dhaka Electric Supply Company(DESCO)
West Zone Power Distribution Company (WZPDCl)
Northern Electricity Supply Company Limited (NESCO)
Electricity Generation Company of Bangladesh Ltd. (EGCB)
Rural Power Company Ltd. (RPCL)
Power Cell
Coal Power Generation Company Bangladesh Limited (CPGCBL)
Power Grid Company of Bangladesh (PGCB)
The above power company conducts a different task with its plan and working category that is power generation, distribution, transmission.
Organization
Generation
Distribution & Transmission
EPRC
SREDA
EACEI
POWER CELL
BPMI
BPDB
APSCL
EGCB
NWPGCL
RPCL
CPGCBL
Joint Venture
B-R Power Generation
BPDB
BREB
DESCO
DPDC
WZPDCO
NESCO
PGCB
Companies under power division in Bangladesh
BPDB conduct both the generation and distribution task. The EEE job sector in Bangladesh is also available for joint venture companies that have a diplomatic relationship with other countries regarding the power sector.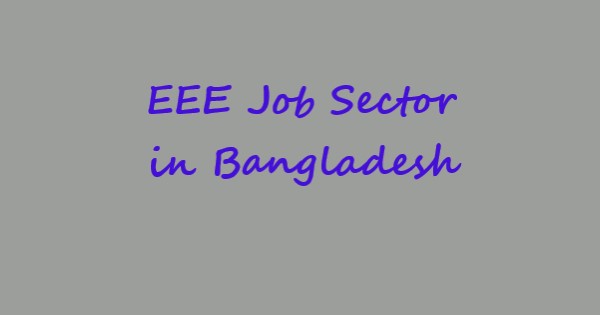 Ministry of power energy and mineral resources (MPEMR)
Under the ministry of power, energy, and mineral resources, an electrical engineer can find his/her desired jobs.
The EEE job sector in Bangladesh under this ministry is quite available.
Department of Energy and Mineral Resources (EMRD)
Bangladesh Oil, Gas & Mineral Corporation (Petrobangla)
Bangladesh Petroleum Corporation (BPC)
Geological Survey of Bangladesh (GSB)
Bangladesh Petroleum Institute (BPI)
Department of Hydrocarbon Units, Energy and Mineral Resources (HCU)
Bangladesh Energy Regulatory Commission (BERC)
GAS TRANSMISSION COMPANY LIMITED (GTCL)
Maddhapara Granite Mining Company Limited (MGMCL)
KGDCL
Pashchimanchal Gas Company Limited (PGCL)
Titas Gas
Bakhrabad Gas Distribution Company Limited (BGDCL)
Sylhet Gas Fields Limited (SGFL)
Bureau of Mineral Development (BOMD)
Rupantarita Prakritik Gas Company Limited (RPGCL)
Bangladesh Gas Fields Company Limited (BGFCL)
Meghna Petroleum Limited (MPL)
Barapukuria Coal Mining Company Limited (BCMCL)
Jalalabad Gas Transmission and Distribution System Limited (JGT&TSL)
Jamuna Oil Company Limited (Jamuna Oil)
Padma Oil Company Limited (Padma Oil)
SGCL
Department of Explosive
Other Government and Private Sectors
There are different ministries and have different EEE job sectors in Bangladesh. There have sufficient vacancies in the government and private sectors.
Bangladesh Standard and Testing Institute (BSTI)
Bangladesh Chemical Industries Corporation (BCIC)
Bangladesh Railway (B.R.)
Bangladesh Road Transport Corporation (BRTC)
Bangladesh Agricultural Development Corporation (BADC)
Bangladesh Securities and Exchange Commission (BSEC)
Bangladesh Shipping Corporation (BSC)
Civil Aviation Authority of Bangladesh (CAAB)
Bangladesh Council of Scientific and Industrial Research (BCSIR)
Bangladesh Jute Mills Corporation (BJMC)
Bangladesh Ordnance Factories (BOF)
British Airways Avionic Engineering Limited (BAAE)
Government Bank
Private Banks
Summit Power
Sinha Power and
Many other private power plants
Communication and Electronics Sectors
An electrical engineer has much space to get a EEE job on communication sectors side by side electronics companies.
Bangladesh Television (BTV)
Bangladesh Telecommunication Regulatory Commission (BTRC)
Bangladesh Telecommunications Company Limited (BTCL)
Mobile operator Company (Teletalk, GP, Robi, etc)
Bangladesh Submarine Cable Company Limited (BSCCL)
Walton
Mobile Construction and servicing company (Oppo, Vivo, etc)
Many electronics sell and service companies.
There have many electrical and electronics engineering jobs in Bangladesh.
The above is the EEE job sector in Bangladesh. As an electrical engineer you must have a passion to work with these sections. There are many opportunities to get a job.
You should keep in mind that as an electrical engineer you have a lot of posts if you have qualified as a global engineer. It is not too hard to get a job. We hope that the above discussion will help to know you where there is an EEE job sector in Bangladesh.
Don't worry, without these, there have many job opportunities as a EEE engineer not only in Bangladesh but also in other countries.
EEE job sector in Bangladesh. EEE job sector in BD. Thank you.